NAAT Testing:
In order to reduce the window period in HIV Testing Methods, JKSACS has submitted a proposal for upgrading the HIV Testing to the latest technology like ELISA 4th Generation Testing and NAAT Testing for consideration to the Government of INDIA.
If approved this will go a long way in containing the risk that is associated with the present day testing methods in which window period is quite high.
Blood Collection 2016-17
S. No
Particular
Figures
1
Total blood collection
69,172 units
2
Total Voluntary Blood Collection
52,112 units
3
Total Replacement
17,060 units
4
Total Blood Donation Camps
219 Camps
5
Detected Positive for HIV in Blood Banks
41
6
Detected Positive for Hepatitis B.
269
7
Detected Positive for Hepatitis C
113
8
Detected Positive for Syphillis
150
9
Detected Positive for Malaria
11
Total Voluntary Blood Donation Percentage
75.33%
The goal of Blood Safety programme is to provide adequate safe blood and blood products to all the needy patients.
Objectives: To ensure reduction of transfusion-transmitted infections in the Country through voluntary blood donation programmes and quality blood supplies for patients. All donated blood is tested for HIV/HBV/Malaria/HCV/VDRL.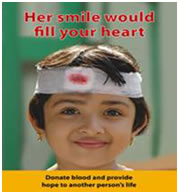 In the State of J & K, the availability of blood is ensured through an excellent network of 23 NACO supported blood banks which include one Model Blood Bank (GMC, Jammu), Three Major blood banks with BCFUs (SKIMS, SMHS, Lalla Ded) and two Regional Blood Banks at (GMC, Jammu & GMC Srinagar) two major Blood Banks (Bone & Joint Hospital Sgr. & SMGS Hospital Jammu) & 17 District level Blood Banks (Gandhi Nagar Hospital Jammu, Kathua, Kishtwar, Rajouri, Ramban, Poonch, Udhampur, Doda, Anantnag, Baramulla, Budgam, JLNM Srinagar, Kupwara, Kulgam, Kargil, Leh, & Pulwama).
Specific strategies for safe blood collection in J&K

JKSACS works for the promotion of 'Voluntary' blood donation and ensures the availability and accessibility of safe and quality blood, to the needy.

With support of the Red Cross Society, Youth Red Cross, Red Ribbon Clubs, NSS, Social Welfare Organization etc. to promote the voluntary blood donation movement.

Use media, corporate houses, stars and celebrities to advocate and encourage voluntary donations.

Facilitate Seminars, Workshops, conference and Awareness programs for different community stakeholder regarding the importance of voluntary blood donation.

Help prepare district-wise action plan for voluntary blood donation camps.

Support capacity building and trained staff sufficiency at all blood banks for rendering self - sufficient and quality blood transfusion services.

Provide External Quality Assessment Scheme for HIV testing.

Assist quality management programmes for blood transfusion services.
National Voluntary Blood Donation Day (October 1)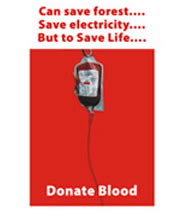 National Voluntary Blood Donation Day is getting celebrated in India at 1st of October every year to share the need and importance of the blood in the life of an individual. It was first started celebrating on 1st of October in the year 1975 through the Indian Society of Blood Transfusion and Immunohaematology. Indian Society of Blood Transfusion and Immunohaematology was first established at 22nd of October in the year 1971 under the leadership of Mrs. K. Swaroop Krishen and Dr. J.G. Jolly.
Objectives
To make aware the people all over the country about the importance of the voluntary blood donation.
To successfully achieve the target of Voluntary Blood Donation to fulfill the urgent need of the needy patients.
To store the blood in stock in blood banks for any urgent and serious requirement.
To promote and emphasize the self esteem of blood donors through a lot of thanks.
To motivate and encourage people who are not interested in donating blood even being a healthy person.
To stimulate people to donate blood voluntarily who are interested in donating blood only to their relatives or friends.
Transfusing or donating blood or its components to the needy person has become very important part of the humanity in the modern health care system. It does not matter who is the blood donor or blood receiver, a donor can be a receiver in the future as well as a receiver can be a healthy donor in the nearest future. So donating blood without any expectation is the great humanity and vital part in the life saving process. Do not donate blood only to your relatives or friends, donate blood to voluntarily for any human being is the real humankind as it can save many lives.
World Blood Donors Day (June 14)
Every year World Blood Donors' Day (June 14) is celebrated in collaboration with different stake holders in all the districts of J&K by school and college-level competitions in slogan writing, drawing and elocution. On this occasion, blood donation camps are also organised in all districts.
Support to Blood Banks
JKSACS provides human resource (Quality Assurance Manager, Technical Assistant, Lab Technician and Counsellor), Testing Kits & Reagent (HIV, Hbg-B, Hbg-C, Syphilis & group regents) and IEC material (Donor-group Cards, Donor and camp organizer appreciation certificates, Voluntary Blood Donation posters, Handouts etc.) support to all NACO-backed blood banks. It also provides donors refreshment and camp expenses support to all NACO- backed blood banks for their Voluntary Blood Donation Promotion programmes.
Blood Units Collected in 2011 - 2015