CST (Care, Support & Treatment)
One of the Objectives of NACP is to provide care, support and treatment to all PLHIV with this objective in mind various services delivery points like CoE, ART Centre, ART Plus centres, LAC, LAC Plus and CCC have been established and are being expanded in a need based manner:

The main objective of Anti-retroviral Therapy (ART) Centre is to provide comprehensive package of Care-support and Treatment services to persons living with HIV/AIDS(PLHIV).The specific objectives of an ART centre are to:-
Register and provide Care, Support and Treatment services to all PLHIV and monitor patients in HIV care (Pre-ART) regularly.
Indentify eligible PLHIV requiring ART and initiate them or ART in a timely manner as per the NACO guidelines.
Provide ARV & OI drugs to eligible PLHIV.
Provide treatment adherence and counseling services before and during treatment to ensure high levels of drugs adherence.
Counsel and educate PLHIV, caregiver, guardians and family members on nutritional requirements, hygiene, positive living and also on measures to prevent further transmission of infection.
Refer patients requiring specialized services (including admission) to other departments/higher facilities/CoE.
Provide comprehensive package of services including condom and prevention education with a view towards "Positive Prevention"
Ultimately integrating HIV care into general health system for long term sustainability.
HIV/AIDS Epidemic Profile of J&K
On the basis of the HIV Sentinel Surveillance 2014-15 the epidemic of HIV /AIDS in J&K is static and under control. J&K State fall under the low Prevalence State where the ANC prevalence is 0.05%.
There are 5974 clients registered in HIV Care at ART centers and 1355 AIDS deaths so far. Being a low prevalence state, the mission of J&K AIDS Prevention and Control Society is to disseminate wholesome AIDS awareness to every citizen of the State especially living in the age group of 15 – 49 years.
Impact of CST Programme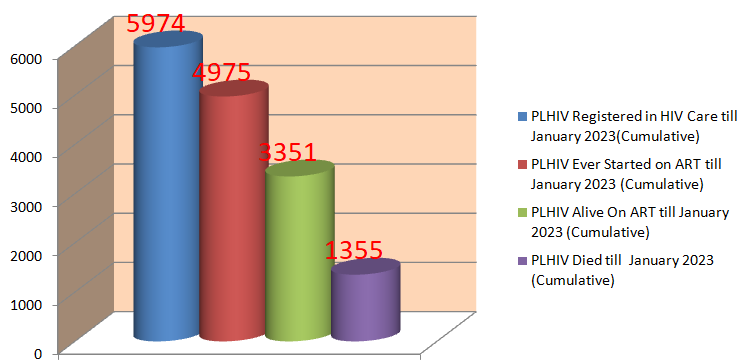 FUNCTIONS OF ART (Antiretroviral treatment) Centre
To provide ART to eligible PLHIV and counsel them on 100% adherence to therapy for long term effectiveness of ART.
To monitor patients on ART and manage side-effects.
To screen PLHIV for HIV-TB co-infection for early diagnosis of TB and appropriate linkage with the RNTCP.
To refer patients suspected for drug toxicity and/or treatment failure to SACEP for review and initiation of alternative first line or second line ART.
To provide psychological support to PLHIV accessing the ART centre and provide counseling for adherence to ARV drugs and issues related to toxicity and to educate PLHIV on proper nutrition and measures to prevent further transmission of infection.
To encourage and help PLHIV to access various welfare schemes provided by different ministries/departments of government and accredited social entitlement schemes.
LAC (Link ART) CENTRE
The ART services are presently being rolled out through ART centres located mainly in medical colleges, tertiary hospital and district hospital. As the ART is a lifelong therapy and drugs are generally provided once in a month, the frequent visit leads to inconvenience, long travel distance and cost to the patient. Hence, in order to reduce the travel cost and travel time in accessing ART services, to increase the access to HIV care for the PLHIV, to improve the drug adherence of patients on ART and to bridge the gap between counseling & testing services and Care, Support and Treatment Services, it was decided to set up Link ART Centres at ICTC's in the district/sub-district level hospitals/CHC'S nearer to the patients residence. These centres are linked to a Nodal ART Centre.
FUNCTIONS OF LAC
To provide ARV drugs to pt. on ART, monitoring of pt. on ART, +/+ of minor OI's, identification and management of side effects and reinforcement of drug adherence.
Drug dispensing.
Monitoring of PLHIV on ART.
OI prophylaxis and treatment.
Tracing missed & LFU.
Linkages with various services such as RNTCP, STI, DLN, other NGOs and CBOs etc.
To provide psychological support to PLHIV accessing LAC.
Provide information about the various social welfare schemes.
CST facilities in J&K
Number of ART centres working under JKSACS
| | | |
| --- | --- | --- |
| S. No. | Name of ART Centre | Name of District |
| 1 | ART plus Centre GMC, Jammu | Jammu |
| 2 | ART Centre SKIMS,Soura | Srinagar |
| 3 | ART Centre GMC, Kathua | Kathua |
Number of Link ART Centres working under JKSACS
| | | |
| --- | --- | --- |
| S. No. | Name of Link ART Centre (LAC) | Name of District |
| 1 | LAC Udhampur | DH Udhampur |
| 2 | LAC Rajouri | DH Rajouri |
| 3 | LAC Leh | SNM Hospital Leh |
ACHIEVEMENTS
J&K state has three fully functional ART centres.
J&K state also has three fully functional LACs.
A state Grievance Redressal Committee (SGRC) has been constituted, for addressing the grievances of HIV/AIDS patients.
All routine investigations like HB/TLC/DLC/PBF/Blood Urea /Chest X-Ray etc. are done free of cost for PLHIVs at all the institutions where the ART centres are located.
Second Line Treatment in ART Plus Centre GMC, Jammu:- Second line treatment is also available in ART Plus Centre GMC Jammu.
Failure of 1st Line is found out by:
Clinical Failure (increased WHO treatment stage)
Immunological failure: * CD4 less than baseline
Cd4 fall more than 50 % of peak value
Persistent Cd4 value below 100
Virological failure (HIV-RNA more than 1000 copies/ml)
The second line ART is complete switch (change) of all 1st line ARVs with 2nd line ARVs
i.e TL(Tenofovir +Lamivudine), ATV (Atazanavir)
Ritonavir ( given in single dose daily)
In case of side effects of ATV it is substituted with Lopinavir
All these 2 nd line ARVs are available in ART Plus Centre, GMC, Jammu.
There are 240 PLHIV Alive on 2 nd line ART in J&K (Till January2023).
Detail of HIV Clients till January 2023 (ART Jammu, Kathua & Srinagar)
S No.

Month

Name of ART Centre

Indicator (Cumulative)

Total

Adults

Children (< 15 years)

Male

Female

TS/TG

Male

Female

1.

Till January 2023

GMC, Jammu

No. of PLHIV Registered in HIV Care

3022

1762

12

83

68

4947

Died

814

320

2

31

24

1192

LFU

331

151

2

07

06

497

Alive on ART

1485

1092

8

33

27

2645

SKIMS
Srinagar

No. of PLHIV Registered in HIV Care

520

160

9

13

12

714

Died

109

26

3

3

3

144

LFU

26

3

1

2

0

32

Alive on ART

283

121

4

6

7

421

ART Kathua

No. of PLHIV Registered in HIV care

146

149

0

12

6

313

Died

12

6

0

2

0

20

LFU

5

1

0

1

1

8

Alive on ART

129

142

0

9

5

285
Compiled Report OF ART CENTRES TILL January 2023 (J & K)
| | |
| --- | --- |
| Indicator (Cumulative) | Total |
| Total No. of PLHIV Registered in HIV Care | 5974 |
| Total Died | 1355 |
| Total LFU | 537 |
| Total Alive on ART | 3351 |
For any Query call:-
National Toll Free Helpline Number 1097.
I/C ART Plus centre Jammu – 9622094955
SMO ART centre Srinagar - 9419009771
MO ART centre Kathua - 7889964070