Basic Services Division (BSD)
Integrated Counselling & Testing Centers ( ICTC): 36
Facility Based -ICTC's (F-ICTCs): ( Kmr 41; Jmu- 16) Total 57
State Reference Laboratory (SRL) – 2 (EQAS & Reverse EQAS)
Prevention of Parent To Child Transmission (PPTCT) –
HIV/TB Collaboration : Collaborative activities between RNTCP & NACP.
Year
Total Clients Tested For HIV
Client Found HIV Positive
2016-17
General
Clients
Pregnant
Women
Total
General
Clients
Pregnant
Women
Total
34300
26630
60,930
173
10
183
Integrated Counselling and Testing Centre
Introduction:-
HIV counselling and testing services were started in year 1997. There are now more than 8000 counselling and testing centres (ICTCS) in India. An individual who is infected with Human Immunodeficiency virus (HIV) will not develop the acquired immunodeficiency syndrome (AIDS) immediately. The Immune system of the individual will wage a consistent and prolonged war with the virus, right from the day of infection, delaying the onset of AIDS by many years. The time lag between infection and manifestation of signs and symptoms of AIDS is approximately 5-7 years. It is therefore important that an individual who is HIV infected should aware of his/her status otherwise he/she could unknowingly transmit virus to others on one hand and devoid of the care support and treatment facilities of NACP (National AIDS Control Programme) on the other hand. The only way to diagnose the presence of HIV (Human Immunodeficiency virus) is through a simple blood test. Under new HIV treatment narrative 90-90-90. By 2020 90% of all people living with HIV will know their HIV status.

What is an integrated counselling and testing centre (ICTCS):-
An ICTC is a place where a person is counselled and tested for HIV on his free will (Client initiated) or as advised by a medical provider (provider initiated).
The main function of an ICTC include:-
Early detection of HIV
Provision of basic information on modes of transmission and prevention of HIV/AIDS for promoting behavioural change and reducing vulnerability.
Link HIV Positive to care support and treatment services.
Follow up counselling.
Prevention of parent to child transmission(PPTCT)
Cross referral-TB/STI/TI-NGO/DIC
What are different types of ICTCs
Fixed facility ICTCs
Mobile ICTCs
Fixed facility ICTCs are those ICTCs that are located within an existing health care facility/Hospital /Centre.
A fixed facility ICTC can be of two types
Stand-Alone ICTC (SA ICTC)
Facility Integrated ICTC (FICTC)
Stand Alone ICTC: Having full time counsellor and a laboratory technician who under take HIV counselling and HIV testing respectively having a computer and internet assess facility for on line monthly reporting under Strategic Management Information system (SIMS). These ICTCs are established in every District, in the District Hospital and GMC (Government Medical College) Jammu and Srinagar, Kashmir along with other Hospitals in Jammu and Kashmir District.
Facility Integrated testing and counselling centre (FICTC): The ICTC which doses have full time staff and provide HIV counselling and testing services as a service along with other services of the health Department. Existing staff such as auxiliary nurse midwife (ANM)/ staff nurse & laboratory technician ( LT) are being trained in counselling and Hiv testing activities respectively. Such facilities are to be establish in Government sub district Hospital/community Health centre and 24*7 PHC where client load is more as well as in private and public sector Hospitals. The FICTC are supported by NACO to the extent of
Supply of rapid HIV testing Kites
Training of existing stuff
Quality assurance
IEC material
MOBILE ICTC:- It is observed that higher risk /vulnerable population are less likely to assess fixed facility ICTCs due to several impediments the most important being distance and timing. A Mobile ICTC consisting of a team of paramedical health care providers (A Health Educator/ANM counsellor and Lab. Tech. can set up a temporary clinic with flexible working hours in hard to reach areas where services are provided ranging from regular health check-up, syndromic treatment for STI/RTI ( Sexually Transmitted infection/Reproductive trait infection) and other minor ailments, Antenatal care, immunizations as well as counselling and testing services. A Mobile ICTC will consist of a van with a room to conduct general examination and counselling and a space for collection and processing of blood samples etc.
Testing under an ICTC
It is not the mandate of an ICTC to Counsel and test everyone in the general population.
There are Subpopulation who are more vulnerable or practice high risk behaviour.
These sub – populations include sex workers and their clients, Men who have sex with men (MSM), transgender, injecting drug users (IDUs), Truckers, Migrant workers, spouses and children of man who are prone to risky behaviour r.
HIV prevalence levels are typically higher among these sub populations than in the general populations
Medical Providers also refer patients who have a history of risky behaviour or have signs and symptoms suggestive of HIV/AIDS for Counselling and testing to an ICTC.
Any individual who is self motivated at his free will can avail Hiv Counselling and Testing services in an ICTC.
Where can an ICTC be locate
ICTCs should ideally be located such that they provide maximum access to at- risk/vulnerable populations.
It is important to ensure that facilities for counselling and testing be located as close to the people as possible.
Under the National AIDS Control Programme, Phase II, Integrated (Voluntary) and Confidential Counselling and Testing Centres have been established at district level Government hospitals and Medical Colleges
These earlier Voluntarily Counselling and Testing Centres (VCTCs) and facility providing prevention to Parent to Child Transmission of Hiv/AIDS (PPTCT) are now remodelled as a hub to deliver integrated Services to all Clients under one roof and renamed as " INTEGRATED COUNSELLING AND TESTING CENTREs" (ICTCs)
Purpose of HIV Testing
Information is useful for prophylaxis, medical management and treatment of HIV and related
To assure blood safety and donation safety
To assess the efficacy of targeted intervention in a defined cohort.
To monitor trends of epidemic (sentinel surveillance etc.)
Identification of asymptomatic individuals (practicing high risk behaviour)
To plan personal and family's future if the result is positive.
To motivate for behaviour modification through counselling amongst those who test negative and who practice high risk behaviours.
To induce behaviour change and prevent transmission by counselling in those who are test positive
To diagnose clinically suspected cases
peace of mind of individuals practicing high risk behaviour
General Principals/ Test Procedure in HIV Testing
Inform Consent after pre test counselling for HIV testing
CONFIDENTIALITY
It should be part of the overall comprehensive and preventive programme
Testing should be technically sound and appropriate. All testing should precede pre test counselling and followed by post test counselling.
HIV Testing to be done by three different tests.
Kit-1
Kit-2
Kit-3
Input Under NACP
Counsellor
Laboratory Technician
Infrastructure development Fund- Onetime Cost
HIV Kits
Grants for Consumables, furniture & Contingency
Monitoring and Supervision
Over all Monitoring and supervision by NACO & JKSACS
Overall in charge (ICTC) in Medical College :HOD Microbiology Department
Over all In charge(ICTC) PPTCT CENTRE HOD Gynaecology Department
ICTC - in charge in District Hospital: Medical Superintendent/Medical Officer (Assigned Duty)
ICTC in charge in other Hospitals : Respective Heads of the institutions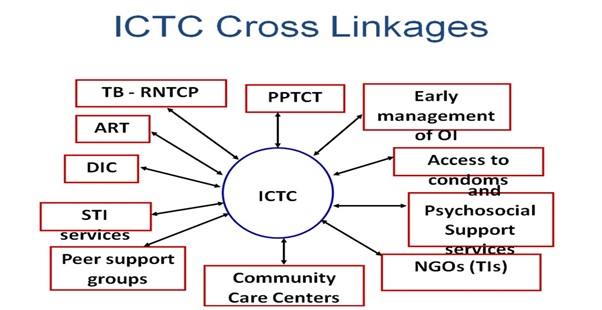 ICTCs in Jammu & Kashmir State
Total ICTC in J&K state   =       36
New proposed ICTC         =       06
Total proposed FICTC      =       25
Total proposed Mobile ICTCs=  02
SNo

Name of the ICTC

District

ICTCs OF JAMMU DIVISION

1
ICTC, GMC Jammu
Jammu
2
ICTC(PPTCT) SMGS Hospital
Jammu
3
ICTC Govt Hospital,Gandhi Nagar
Jammu
4
ICTC, District Hospital, Sarwal
Jammu
6
ICTC, Sub-Police Hospital, Chenni
Jammu
7
ICTC, ASCOMS, Sidhra, Jammu
Jammu
7
ICTC, SDH, Akhnoor,
Jammu
8
ICTC, District Hospital, Kathua
Kathua
9
ICTC, District Hospital, Rajouri
Rajouri
10
, District Hospital, Udhampur
Udhampur
11
ICTC, District Hospital, Poonch
Poonch
12
ICTC, District Hospital, Samba
Samba
13
ICTC, District Hospital, Ramban
Ramban
14
ICTC, District Hospital, Doda
Doda
15
ICTC, District Hospital, Kishtwar
Kishtwar
16
ICTC, District Hospital
Reasi
SNo.
Name of ICTC
District
1
ICTC GMC Srinagar
Srinagar
2
ICTC (PPTCT) LD Hospital
Srinagar
3
ICTC, JLNM Hospital, Rainawari
Srinagar
4
ICTC, SKIMS Srinagar,
Srinagar
5
ICTC, Medical College, SKIMS, Bemina
Srinagar
6
ICTC, Poilice Hospital, Zeewan
Srinagar
7
ICTC, District Hospital, Baramulla
Baramulla
8
ICTC, Sub-District Hospital, Uri
Baramulla
9
ICTC, District Hospital, Kulgam
Kulgam
10
ICTC, District Hospital, Ganderbal
Ganderbal
11
ICTC, District Hospital, Budgam
Budgam
12
ICTC, District Hospital, Handwara
Handwaa
13
ICTC, District Hospital, Shopian
Shopian
14
ICTC, District Hospital, Pulwama.
Pulwama
15
ICTC, District Hospital, Bandipora
Bandipora
16
ICTC, MCH, Anantnag
Anantnag
17
ICTC Kupwara
Kupwara
18
ICTC, District Hospital, Leh
Leh
19
ICTC, Sub-Distt. Hospital, Nubra
Leh
20
ICTC, District Hospital, Kargil
Kargil
Inspite of un-favorable conditions of the State, the number of voluntary visitors have increased manifold because of the sustenance & dissemination of HIV/AIDS awareness at grass root level. Accordingly, People started to attend ICTCs and the more HIV +ve cases are expected to be identified over a period.
The following is the work done of these ICTCs from 2008 to 2012
HIV testing in ICTCs in Jammu and Kashmir State Year wise

Year

Total Clients tested for HIV

Clients found HIV positive

General Clients
Pregnant women
Total
General Clients
Pregnant women
Total
2008-09
27,101
26,308
53,409
397
07
404
2009-10
2009-10
30,106
28,917
5,9023
479
22
501
2010-11
2010-11
25,774
34,256
60,030
343
17
360
2011-12
2011-12
33,555
50956
84,511
426
26
452
2012-13 ending Dec-12 27,567
2012-13
ending Dec-12
27,567
63,412
37,515
300
07
307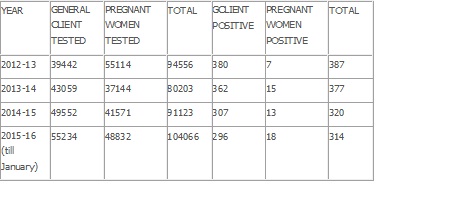 HIV Testing And Positivity Among General Clients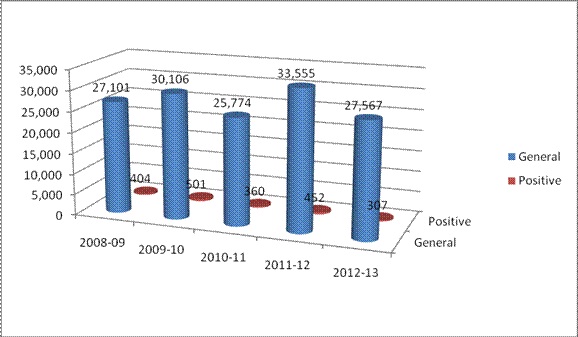 HIV Testing And Positivity Among Pregnant Women